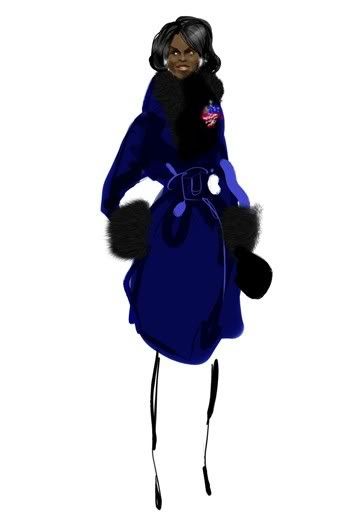 (Christian Lacroix...That coat is gorgeous)
As America prepares to inaugurate a new president that stands for change later this month, international fashion designers ranging from Marc Jacobs to Christian Lacroix prepare sketches of what they hope his fashion-conscious wife will wear to the inauguration. WWD, Women's Wear Daily which is fashion's biggest newspaper, reports that they contacted various big names like Diane Von Furstenberg about this subject who readily sent back illustrations of their ideas. Not only did they sketch looks for her, but for her daughters Malia and Sasha.
They can be found
here
Fashion designers were excited about this election because the last chic First Lady was Jacqueline Kennedy in 1969. Almost 40 years later, fashion-philes were overjoyed to see couture return to the campaign through Michelle Obama.
Considering that the First Lady-Elect usually opted for lesser-known and cheaper brands like J. Crew and young designers like Thakoon during her husband's race; the question really is "who will she wear" on his most important night? She saved her biggest name, Narciso Rodriguez, for election night and with legendary designers like Karl Lagerfeld for Chanel ready to make a dress for her, will she go for a grand label to fit her new, grand position or go for a younger,newer brand like Zac Posen to celebrate her new position?