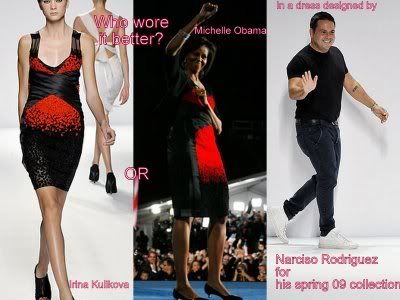 Arguably, Michelle Obama has taste
and
great style
. Though this Narciso Rodriguez dress didn't fit her very well beacuse it wasn't made for her, it was tasteful featuring red, a big color this spring, and I think the dress was very well executed with a great texture. I like the fact that she doesn't limit herself to wearing the well-known designers Calvin Kein but also wears indie designers like
Thakoon
Panichgul
and was daring enough to wear a controversial tunic-and-leggings ensemble and even an
off-the-rack
dress. Even her
Barack's been making waves
in fashion. It's great to have a First
Family
with style, no?
It hasn't sunk in yet that less than 24 hours ago, I watched
this man make history
. I guess I haven't yet realized what thiis means, but I know I'm proud because I had tears in my eyes when that "Breaking News" screen flashed on CNN. What makes me even happier is that from Australia to Japan to the UK, other people celebrated with America as change arrived on our horizon. I'm still shocked that I got teary eyed because I didn't think I cared that much, but I was happy for him. Because I realize how his dreams had come true and how his name will never be forgotten. This man, son of an
immigrant
(yes that's
him and his dad
), defeated the odds, and I was there to see it all. No, it hasn't hit me just how big this is...